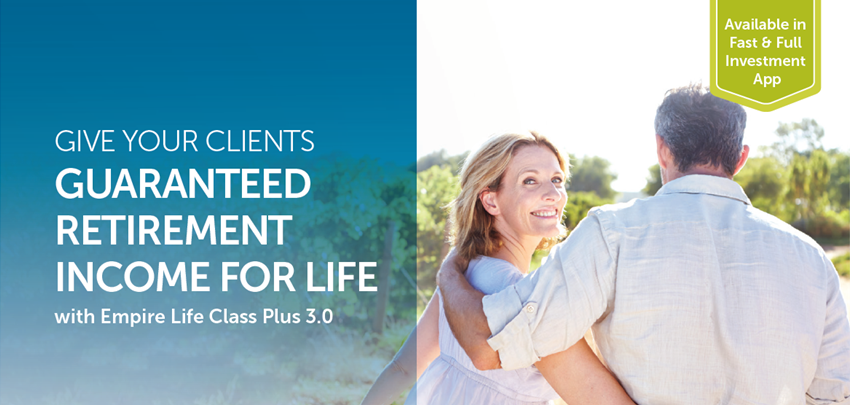 When your clients invest in Class Plus 3.0, they are guaranteed to receive a predictable monthly income that is guaranteed for as long as they live.1
Class Plus 3.0 is full of features for your clients:
4% annual Income Base Bonus2

Lifetime Withdrawal Amount (LWA) payout rates for each age,

3

including a 4% LWA at age 65

Annual Automatic Income Resets mean client's income may be bumped up

Lower insurance fees and total cost

4

Death Benefit Guarantee

5

and Income Base reset automatically every 3 years

Potential for higher growth with up to 80% equity exposure
Questions? Talk to your Empire Life Sales Representative or call us at 1-877-548-1881 for more information.
FOR ADVISORS ONLY
1 Making an Excess Withdrawal may decrease the guaranteed retirement income for life amount. 2 The Income Base Bonus is credited in years that there are no withdrawals from Class Plus 3.0 for the first 20 calendar years you own Class Plus 3.0. It is a notional amount and has no cash value. 3 Available from ages 55 to 80. 4 Compared to Empire Life Class Plus 2.1. 5 Up to and including Annuitant's 80th birthday.
A description of the key features of the individual variable insurance contract is contained in the Class Plus 3.0 Information Folder. Any amount that is allocated to a Segregated Fund is invested at the risk of the contract owner and may increase or decrease in value.